Thin & Crisp Chocolate Chip Cookies
PanNan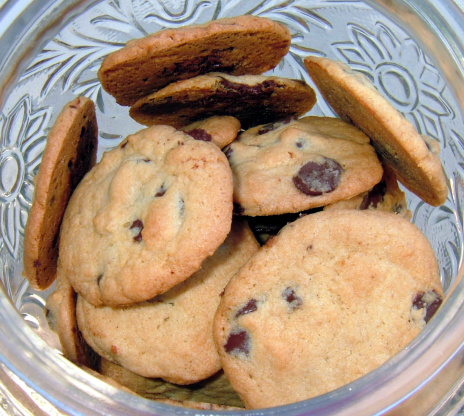 This recipe is from Fine Cooking. These are so buttery, crisp and delicious! The key to the crispness is the ratio of more white sugar than brown, the proportion of butter to the rest of the ingredients, and the fact that the butter and egg are at room temperature (the butter is soft). Edited 5/22/06: I added tips in step 10 and 11 to help make sure they turn out thin and crispy. Another tip might be to warm the cookie sheet before adding the dough (I don't do this, though). Maybe the tips will help. As you can see in the picture, mine come out thin, and I think they're very buttery and crispy. Chocolate chip cookies were first served at the Tollhouse Inn in Massachusetts.

As the other reviewers said, very good buttery cookies. Not initially thin nor crispy here either. I took the advice of Kit Jun (partially!) and instead of making her/his recipe, I just omitted one of the eggs. I also flattened the cookie dough on the sheet before I put the sheet in the oven and baked 9 minutes. Still soft with slightly crisp edges. The last tray of cookies was in the oven about 2 minutes longer than all the others - this tray was crispy and much more what I was looking for. So in my oven they need 11-12 minutes and need to be browner than they are in the photograph. And don't forget to flatten the teaspoons of dough when you put them on the cookie sheets. Very good cookies - thanks!
Heat oven to 375° and place racks in middle and top levels of the oven.
Beat together the butter and sugars on high mixer speed until light and fluffy, about 1 minute.
Scrape bowl and paddle beater.
Add eggs and vanilla, and beat on low until incorporated.
Then beat on high for about 1 minute until light and fluffy again.
Scrape bowl and paddle again.
In a separate medium size bowl, whisk together the flour, salt, and baking soda.
Add this to the butter mixture and beat on medium until just blended.
Stir in chocolate chips with a wooden spoon.
Drop rounded teaspoons of dough 2-inches apart onto the greased cookie sheets. Tip - don't make these larger - larger amounts of dough won't flatten well.
Bake until deep golden brown around the edges, and lightly golden in the center- about 8-10 minutes, rotating the sheets after about 4 minutes to get more even results. Tip - when you rotate the sheets after 4 minutes, check to see if the cookies have flattened well. If not, shake the pan gently to spread the dough and flatten a little more. Then, contine to bake until brown and crisp.
Remove from the oven and let rest 3-5 minutes before transferring the cookies to a wire rack to cool completely.