Thin and Crisp Powdered Oatmeal Cookies
Marlene.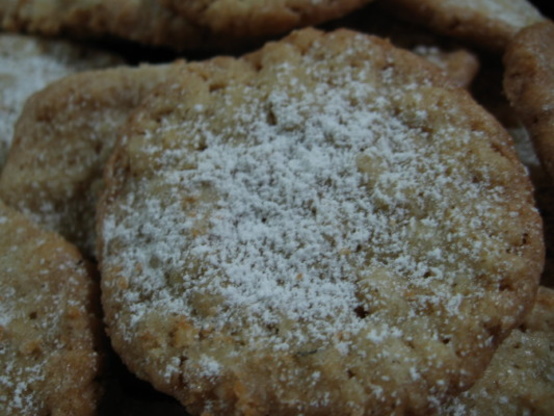 If you're into soft, chewy, raisin-filled oatmeal cookies, these are not for you. These cookies are melt-in your-mouth good, wafer thin and addictive.

Delicious! Delicate and light. I just wish I wasn't giving them away. I used Missfish's idea and rolled them in a log and stored in the fridge until I was ready to bake. I sliced the cookies fairly thin, so I didn't need to press them down. They came out great. I sprinkled with crystal sugar rather than powderd sugar only because I didn't want the powdered sugar to make a mess in the gift bag. Thanks for posting, I'll be making these again.
Cream butter or margarine and sugar.
Add egg and vanilla; beat well.
Add combined flour, soda and salt; mix thoroughly.
Stir in oatmeal.
Drop by teaspoon on cookie sheet.
Dip fork in water, press cookie down; or use the bottom of a glass.
Bake at 350° for 10-15 minutes or until lightly browned.
While still warm, sprinkle top of cookie with confectioners' sugar.