AceCandi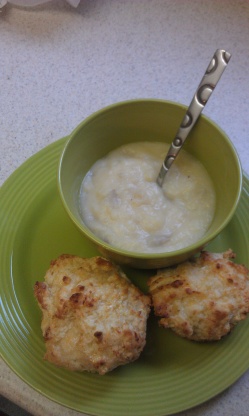 Thick potato soup, I've noticed many recipes are... watery/wet. This is nummy, especially paired with the copy-cat "cheddar bay buscuits". :) Enjoy!
Wash potatoes, and cut into quarters (or a bit small if you prefer).
Put potatoes, can of condensed soup and milk in the pot, make sure to spread the potatoes so they are evenly covered.
Bring the mix to a boil, then lower heat, cover and allow to simmer for 25 minutes.
Make sure to stir occasionally, otherwise you'll burn the bottom.
Add salt and pepper to taste.
Enjoy!