Thick Coffee Banana Smoothie
Redsie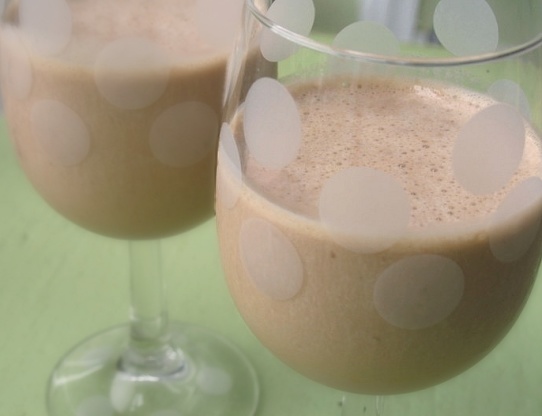 There are a few little preparation quirks that distinguish a good smoothie from a great one - at least in my book. For one, I like to par-freeze the fruit I'm using - not rock solid, mind you - because it helps thicken the drink; room temperature fruit only thins it. Ditto for the liquid I use, in this case coffee - usually left over from the pot I've made that morning. As prepared here, this smoothie has a mild coffee flavor, but if you want a stronger coffee kick then go ahead and use some double strength brewed coffee that has been well chilled.

This is a very tasty smoothie. DH was hesitant about the combination of banana and coffee, but I assured him that you definitely are the "Queen" of Coffee"! : ) The only changes I made was to use truvia sweetner (but less than called for as my frozen bananas were very ripe and sweet), and no protein powder (wish I had had it on hand. This made a nice breakfast smoothie -- you get the best of both worlds -- breakfast and coffee.LOL Made for Everyday is a Holiday tag, September, 2013.
3⁄4-1 cup fresh brewed coffee, cooled

1

medium banana, peeled
1 1⁄2 cups french vanilla yogurt (low-fat or nonfat is fine)

1 -2

tablespoon protein powder (or other nutritional powder) (optional)

1

teaspoon chocolate syrup (optional)

1

drop vanilla extract
Twenty to thirty minutes before you plan to mix your smoothie, put the coffee in a shallow pan and place it in the freezer, stirring once or twice after 15 minutes.
It should become slushy-icy.
Thinly slice the banana onto a plate and put that in the freezer as well, to chill.
While you're waiting, chill the glasses you plan to use.
When you're ready to proceed, combine the chilled coffee, banana, and sugar to taste in a blender.
Blend just until smooth.
Add the yogurt and any of the remaining ingredients you wish to use.
Blend again, briefly, just until smooth. Taste, adding a little more sugar if needed. Transfer to the chilled glasses and serve.