Thick & Chunky Tomato Sauce With Veggies (Crock Pot)
Rita1652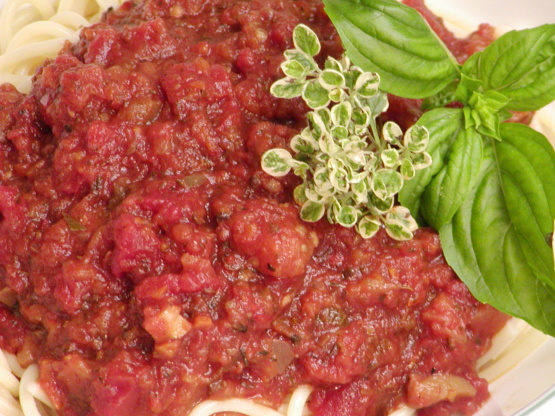 Lots of vegetables gives this sauce a meat sauce look but isn't. I had friends come over while it was cooking and taste it a thought it was a meat sauce. I great way to get a variety of vegetables into your family without the I don't like that veggie! This freezes well so you can divide into freezer bags for future use (if it lasts). Use on pasta, in stew, bean dishes, top a pizza, or in soups. This can make this on your stove top as well.

I love, love, love this! I have made it twice this month from fresh tomatoes and other CSA goodies: the first time I made it as written, and the second with a few little tweaks. Both times I got enough for three meals, and my freezer is now full of healthful and delicious sauce that my kids gobbled without a second thought. The first time I added cooked lentils before serving for a vegetarian delight, and the second I added a small amount of ground turkey to please the carnivore crowd. I also added a few splashes of red wine and some balsamic vinegar the second time, and I dissolved a chunk of parmesan cheese in the sauce both times. Thanks so much, Rita! Made for Zaar Cookbook Tag.
Heat oil in a large deep heavy bottom pot over medium high heat.
Add next 7 ingredients and saute till almost tender about 10 minutes stirring frequently.
Transfer to a large crock pot add tomatoes, dried seasoning, sugar, salt, and pepper.
Cook for 5-6 hours on high stirring ever so often.
If it starts to stick to bottom turn to low or finish by adding the fresh herbs.
If you`re not around to stir cook on low till desired thickness.