Thick and Chunky New England Clam Chowder
JFitz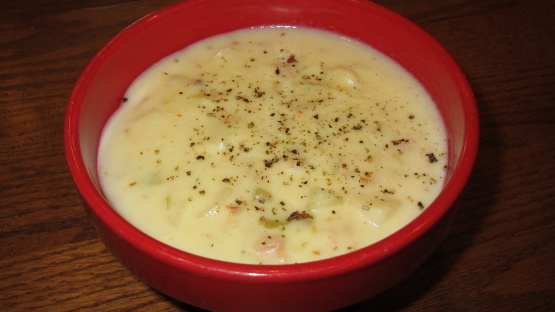 This recipe is a combination of some of my favorite recipes from Food.com. My family really likes their chowder thick and with alot of clams. I came up with this and they love it!
1

(51 ounce) canof diced clams

1

(24 ounce) bottle clam juice

2

tablespoons butter

1

large onion, finely chopped

2

stalks celery, finely chopped

2 -3

tablespoons hormel real bacon bits

1

bay leaf

1

(10 3/4 ounce) cream of potato soup

1

(10 3/4 ounce) cream of celery soup

1

(28 ounce) canof chopped potatoes

3

cups whipping cream

3

cups of mashed potato flakes
Melt butter in large pot.
Add onion, celery, Bacon bits and garlic. Cook until soft.
Add clams with juice, Soups, clam juice, potatoes, bay leaf and whipping cream. Stir and cook over medium heat for approximately 5 minutes.
Season with pepper (salt if needed but the clams and juice make it salty).
Whisk in potato flakes and keep stirring so it doesn't get lumpy. Cook on low for 15 minutes or until warm.
Serve with a nice crusty bread and Salad! Enjoy!