Thick and Chewy Chocolate Chip Cookies
Pismo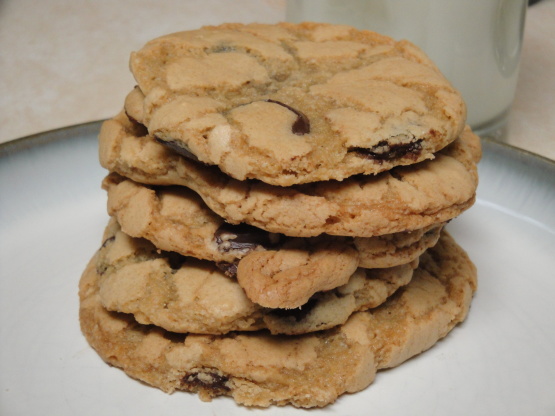 This is my husband's favorite cookie...it is from Cook's Illustrated..
This is MY favorite recipe for CCC. Everyone in the family seems to like different one's best, but this is perfect for me. I use ghiradelli 60% cocoa chocolate chips- they are the best for baking! I also chill the dough sometimes even overnight if I can because I think the bake perfectly like that. The dough is obviously firm from being cold, but I don't find the fresh dough stiff like many reviewers.
Adjust oven racks to upper and lower middle positions.
Heat oven to 325*.Line 2 cookie sheets with parchment paper.
Whisk flour, baking soda, and salt together in medium bowl, set aside.
Either by hand or electric mixer, mix butter and sugars until thoroughly blended. Beat in egg, yolk and vanilla until combined.
Add dry ingredients and beat at low speed just until combined.
Stir in chips to taste.
Roll scant 1/4 cup of dough into ball.Holding dough ball in fingertips of both hands, pull into 2 equal halves. rotate 90* and with jagged edges facing up, join halves together at their base, again forming a single ball being careful not to smooth dough's uneven surface.
Place formed dough onto cookie sheet, leaving 2 1/2" between each ball.
Bake, reversing position of cookie sheets halfway through baking, until cookies are light golden brown and outer edges start to harden yet centers are still soft and puffy -- 15-18 minutes.
Cool cookies on sheets . When cooled, peel cookies from parchment -- .