These are a Few of My Favorite Things' Spinach Salad for 2
COOKGIRl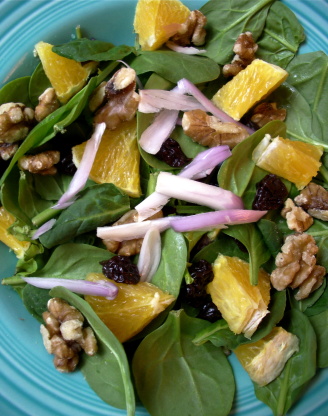 From a local Middle Eastern/Mediterranean take-out restaurant in town. I added a few of my own twists. Be sure the dried cherries you use for this recipe are tart to balance the flavor correctly. No eggplants were harmed in the making of this salad. Use unbleached white sugar or agave nectar for a vegan version.

Well, THE PICKY ONE didn't like it but the rest of us were in heaven! This is so delicious. You can't pick out exactly WHY the dressing is so good because no one flavor overpowers another. I did use canned mandarin oranges because I didn't find blood oranges (maddening since i saw them a few weeks ago) and I subbed pecans for the walnuts. I will be making this again soon because I have a HUGE bag of baby spinach to use! Thank you, CG! MAde for NA/ME Tag. :)
Prepare the vinaigrette by placing the honey (or sugar) and water in a non-reactive pan; bring to a boil. Boil until mixture is reduced by half.
Remove from heat and whisk in the vinegar, oil, orange blossom water, rose water and cinnamon.
Set aside to cool to room temperature. Season with salt and cracked black pepper, to taste.
Combine all the salad ingredients in a bowl and toss gently with the vinaigrette.
Arrange on two salad plates.
Serve with whole wheat pita bread or French baguette.