Theresa's Famous Stuffed Mushrooms
ImPat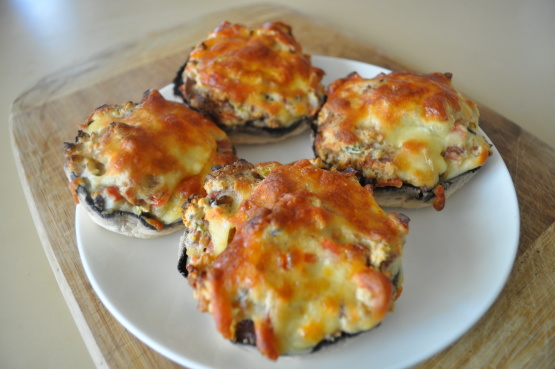 I found this recipe in an old cookbook in a thrift store and couldnt believe how easy it was to make for how good it is ! I make them for Holidays every year !!

Top Review by ImPat
I scaled this back for 2 serves with my four meaty field mushrooms weighing in just under the 1/2lb. As I oven cook my bacon I sauted the vegetables in 1/4 teaspoon olive oil but proceded with rest, using very low fat cream cheese and red capsicum for the green pepper and put a little extra cheese on top and baked at 175C fan forced for 25 minutes for a delicious lunch for the DM and I. Thank you Theresa Nelson, made for Bargain Basement.
In large saute pan, fry bacon until extra crispy Remove mushroom stems from mushrooms and finely dice only using as much as needed Remove bacon strips and add to remaining grease the green pepper, green onion,mushroom stems,thyme and salt and pepper Take cream cheese (softened) in large bowl and mix the saute mixture, other cheese together until well blended Crush crispy bacon into the mixture and add bread (in very small pieces if whole bread or if bread crumbs only as needed to form a nice thick stuffing mixture) Fill mushroom caps with stuffing, top with more cheese if desired and warm in a 350' degree oven about 20 minutes.
You can also put under a broiler for 5-10 minutes if you prefer the top of the stuffing a little more crispier.
Also, I have found that smearing a little bit of butter on the mushrooms themselves before putting them in the oven keeps them from drying out and adds a little more flavor.