There's a Party in My Tummy Red Beans and Rice
DuChick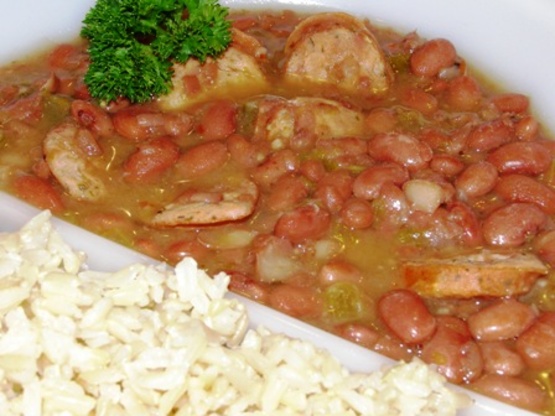 My kids love this song and they love these red beans and rice so it seemed appropriate. This is such an easy recipe I use for the crockpot on Monday's. The leftovers are always better the next day. I always add about a 1/2 to 1 teaspoon of vinegar to each bowl of beans when serving it just tastes good. I never salt my beans till right before serving as you do not know how much really needed to after sausage is added and liquids cook down.

I really wanted the party to happen for me, but my tummy just wasn't up for dancing with this. It was OK, but lacked spice and a kick that maybe chipotle and/or garlic would give it. I also did not add extra water since it had more than enough "juice" even after mashing the beans. MERP'd for Tag It Red Feb. 09 game.
Wash beans cover with water and bring to boil for 10 minutes.
Turn off heat, cover and leave to soak overnite.
Cook the vegetables till softened.
Put beans in crock pot.
Add Mrs. Dash.
Add vegetables and the chicken broth.
Cook on high for about 4- 5 hours.
Check to see if done.
Turn to low and water if needed.
Slice sausage and add to bean about the last two hours of cooking.
Prior to serving pull out 1 1/2 cups beans and juice and mash.
Add mashed beans back to crock pot turn pot to warm and serve when ready with white rice.