The Worlds Best Macaroni and Cheese Salad
JSkizzle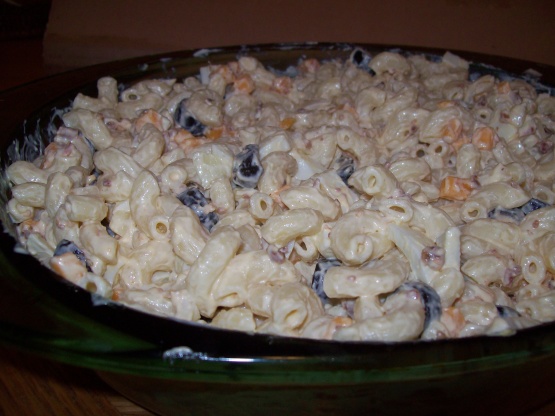 I usually don't measure and I usually make this for big family gatherings. So Take away from the recipe as you see fit. I get a whole lot of complements on this salad and I enjoy it myself. The bacon bits add crunch and taste.

Oh wow! I made this Mac-n-cheese salad for a family get together just recently and it was a huge hit. I changed a few things to fit our family's tastes. I added cherry tomatoes, peas and red (purple) onion. I used shredded cheddar cheese instead of cubed at Mom's request and omitted the olives. The bacon bits tops off the salad perfectly. We only used just 5-6 eggs chopped up in it, just our own taste. This is definitely a "print and add to the recipe file box." Thank you for the recipe!
Boil macaroni.
Dice onion.
Cut olives/cheese/eggs (eggs in big chunks).
When macaroni is done, drain and rinse until mac is cool.
Add all ingredients at one at a time stirring in between.
Add mayo; stir--add mayo; stir.
Add salt and pepper to taste.