Calee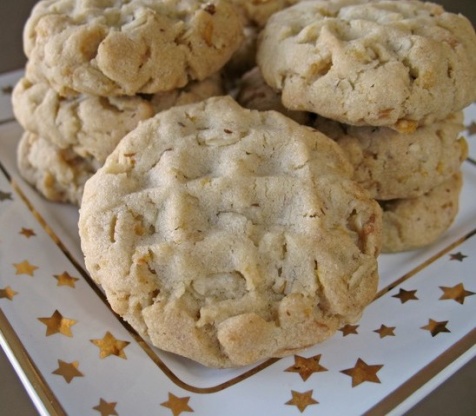 I had these fabulous cookies during a wine dinner weekend at an inn in Ogonquit Maine. The recipe is courtesy of the caterer, but they give credit to the San Francisco ala Carte, a cookbook by the Junior League of San Francisco, 1979.

Top Review by marisk
I've made these twice now. They have a wonderful flavor. I did cut the sugars and increase the vanilla. The first time they turned out a bit delicate and broke easily. The second time I made them thicker - that helped. This is one of the few that I'm baking to put in cookie boxes to give as presents. Thank you for sharing!
Preheat oven to 325 degrees
Cream together the butter and sugars until light and fluffy
Stir in egg, oil, vanilla.
Combine flour, baking soda and salt.
Combine with egg mixture until well blended.
Stir in the rest of the ingredients.
Place on ungreased cookie sheet into balls the size of walnuts and flatten with a fork in criss cross pattern.
Bake for 12 minutes.
Cool on cookie sheet for a few minutes before removing.