The Wild Bunch Black and Tan Mocktail
KateL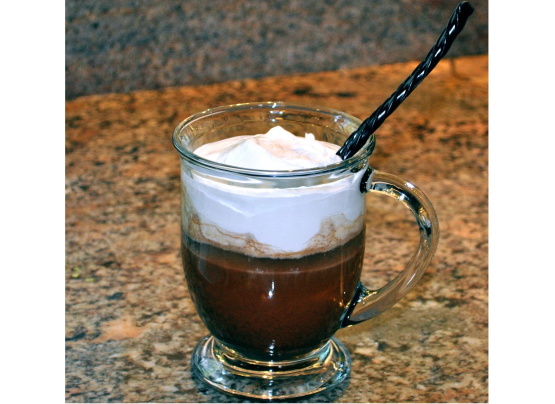 This was created for ZWT8. Time does not include the time chill the coffee the previous day/night. For the licorice stick, use a high-quality licorice that isn't as sweet as U.S. licorice (preferably something from Great Britain or Australia).

Top Review by KateL
Nice chocolate taste, with a delicious caramel-flavored whipped topping and a little fizz. I made chocolate dessert coffee by making some Starbucks Verona coffee and then adding a tablespoon of Recipe #484185, a decadent fudge sauce. The caramel cream was very light and the drop of molasses did little to darken it; after adding the Cool Whip, it was very light indeed, but the taste was exquisite. After biting off the ends of my black licorice, I was able to sip the chocolate coffee, but the creamy layer wouldn't draw through my licorice straw. After enjoying this dessert, I was quite full. Made for ZWT8.
At least 10 hours before you want to serve this, brew 8 oz. of strong chocolate-dessert coffee. Chill it. This would be best if made 24 hours in advance as it will bring out the chocolate flavor.
Mix liquid caramel creamer with 1 drop of dark molasses. Mix well. Fold in the thawed Cool Whip.
Put the coffee in a pilsner glass. Carefully spoon on the creamer mixture. Do not mix.
Put the seltzer into something that will allow you to pour a very fine thin stream of it quickly (e.g., a measuring cup with a lip). Put the seltzer in the middle of the drink, pouring it as finely yet quickly as you can. It should lift and sparkle the whole drink. Do not mix.
Put the licorice stick in; use it as a straw to drink the liquid if desired.
Serve.