diner524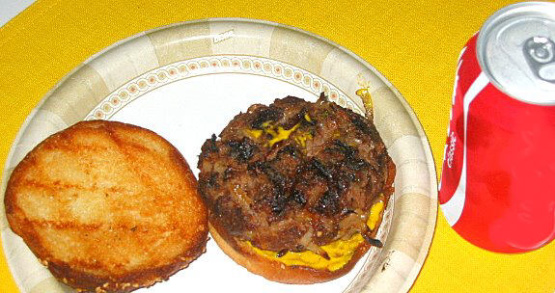 It has been said that the way to a man's heart is through his stomach. That is certainly the case with this burger that was dreamed up by the Mixin Vixen's during ZWTIII. This is a Texas Man size burger that is sure to please. It makes a fantastic starlight meal on the trail for 2 accompanied with home fries and cowboy beans. Enjoy because we sure had fun developing it!
I had this burger for lunch today!! This is definitely not for the faint of heart like Pan Nam said, a little tooo spicey for me, and I cut back on ancho chile powder and didn't use the jalapeno relish. I loved the added potatoes and onion to the burger. I couldn't really taste the bbq sauce. I used regular mustard and loved the garlic toasted buns. Great burger!!!!
In a bowl mix together the ground beef, grated potato and ancho chili powder.
Shape mixture into 2 Texas size burgers; season to taste with salt and pepper.
Heat the grill and place the burgers on to sizzle; baste with barbecue sauce.
Cook the burgers until desired degree of done, turning once only.
When burger is almost done, spray a grill basket or skillet with non-stick cooking spray; drizzle the mushrooms and onions with olive oil, add to the basket and grill for 2 to 3 minutes.
Spread the Texas toast lightly with butter and place on hot grill to toast.
To assemble the burger, spread the untoasted side of bread with barbecue sauce (Stubbs if you got it), Dijon mustard, placing the cooked burger on the sauce, top with sliced cheese, grilled onions, sautéed mushrooms, jalapeno relish and last but not least a tomato slice; place the other slice of toast on top and open wide!
Enjoy.
Please note that the cooking times are approximate. Cook the burger to your desired degree of doneness, rare, medium, well, or burnt.