The Very Best Salisbury Steak
SharonChen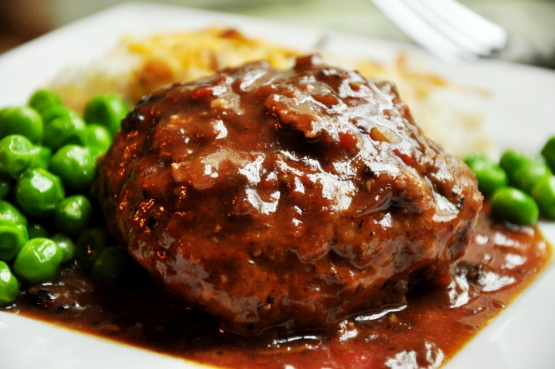 This is our favorite salisbury steak recipe. I always make enough extra sauce to serve over potatoes. Tastes like it took all day to cook.

Great recipe! As with all recipes I tweaked it a bit according to personal preference. Keeping in mind that I never measure anything, here's my take on it: Instead of french onion soup, I use a dry packet of Knorr's onion soup mix. I combine 1/2 with the meat mixture (which otherwise is the same as this recipe) and reserve 1/2 for the sauce. For the sauce I use a tetra pak of beef broth to which I add onions, mushrooms, worchestershire & ketchup to taste, and the remaining onion soup mix. To thicken I use a flour & oil rue. Awesome over mashed potatoes!!!
In a large bowl, mix together 1/3 cup condensed French onion soup with ground beef, bread crumbs, egg, salt and black pepper.
Shape into 6 oval patties.
In a large skillet over medium-high heat, brown both sides of patties.
Pour off excess fat.
In a small bowl, blend flour and remaining soup until smooth.
Mix in ketchup, water, Worcestershire sauce and mustard powder.
Pour over meat in skillet.
Cover, and cook for 20 minutes, stirring occasionally.