The Ultimate Spaghetti Carbonara
teresas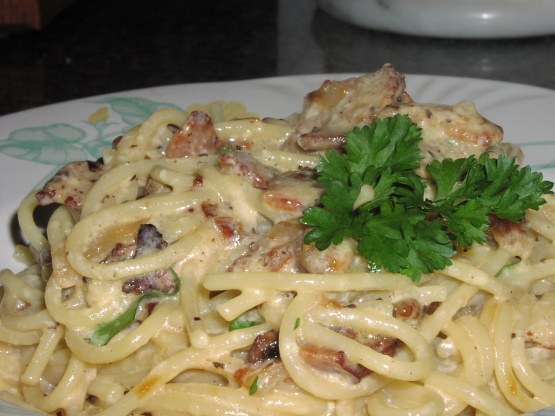 Looks so good and delicious with cooked bacon and parmesan cheese. Of course, there are eggs and a little heavy cream to round out the flavors. Add some freshly ground black pepper and you are in heaven! Recipe is from Tyler Florence who says "if it weren't for this dish, he would have starved to death at college".
Bring a large pot of salted water to a boil for the spaghetti.
Heat a 3-count of olive oil in a skillet over medium heat. Add the bacon and onion and cook for 7-8 minutes, until the onion is caramelized and the bacon is crisp. While cooking the onion and bacon, crack the eggs into a big serving bowl. Add the cream and cheese and whisk. Scrape the bacon and onion into the bowl along with the cooking fat.
Before draining pasta, scoop out 1/4 cup of the pasta cooking water and add it to the bowl with the bacon and eggs. Drain the spaghetti and add it to the bowl - toss well. Place a plate on top of the bowl to hold in the heat and let sit 5 minutes. Remove the plate, toss in some salt and cracked black pepper and the parsley.