The Ultimate Manhattan Clam Chowder
Derf2440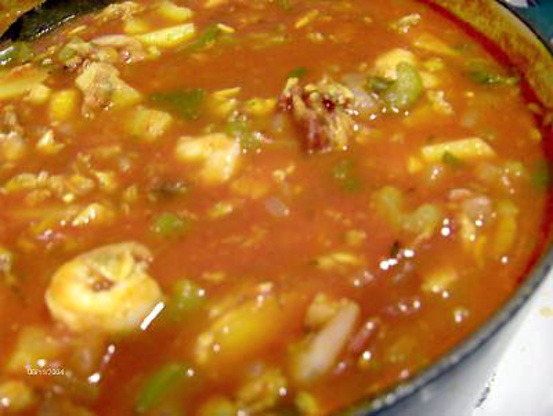 This is amazing, if I do say so myself. I concocted this yummy recipe for a friend who really savors food. He was floored.

Four and a half stars! Really good. Made some changes: used leftover salmon in place of clams (which, I recognize, means this is no longer clam chowder!), and subbed in parsnips for the potatoes. Made in crock pot (cooked veg and bacon, then threw in with everything else) and cooked on high for 3 hours and low for 2. Also added 8 oz. tomato sauce for personal taste. Thanks for a really good one. :]
Steam clams in a large pot and reserve the liquid that is left- it should measure about 3+ cups.
Chop the clams.
In a large pot, cook the bacon over medium/high heat until slightly crisp.
Add the onions and cook, stirring until transparent.
Add the pepper, carrot and celery and cook for about a minute.
Add the clams, tomatoes, clam liquid, water, bay leaf, thyme ground pepper.
Bring to a boil and add potatoes.
Simmer 30 minutes or until potatoes are tender.
Remove the bay leaf. Add chopped parsley.
Add the cooked shrimp now if you plan to use them, but do not continue to cook or the shrimp will get tough.
You should only warm the shrimp over for best results.
Season with salt and pepper, if desired.