The Ultimate Ham & Cheese
chefRD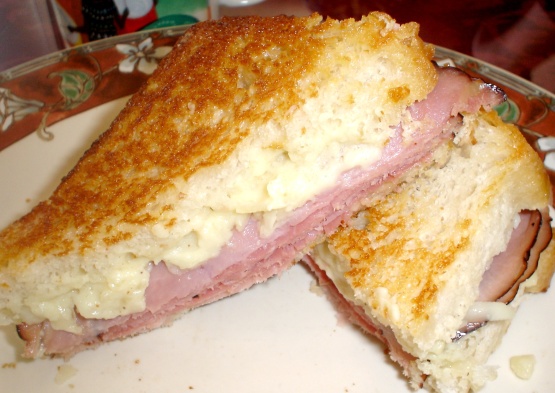 A layer of cheese sauce makes these sandwiches extra-good! There are more sandwich ideas at the end of this recipe. From Williams-Sonoma Cooking With Kids Adapted from Williams-Sonoma Fun Food, by Stephanie Rosenbaum (Simon & Schuster, 2006).
Cook butter and flour.
Be sure an adult is nearby to help.
Set a small saucepan over medium heat, add 1 tablespoon of the butter and let it melt. Add the flour and cook, whisking constantly, until the mixture has thickened a little and smells nutty, about 1 minute. Do not let it brown.
Make the sauce.
Add the milk to the saucepan and whisk very quickly. Reduce the heat to low and cook, stirring constantly with a wooden spoon, until the mixture gets very thick, about 2 minutes. Add the shredded cheese, nutmeg, and a sprinkle each of salt and pepper. Cook, stirring, for 1 minute. Remove the saucepan from the heat.
Build the sandwiches.
Lay the bread slices in front of you on a work surface. Using a table knife, divide the cheese sauce between 2 of the slices, spreading it evenly. Layer a slice of cheese, 1 or 2 slices of ham and another slice of cheese on top of the sauce. Top with the remaining bread slices.
Cook the sandwiches.
Set a large fry pan over medium heat and add the remaining 1 tablespoon butter. Let it melt, then tilt the fry pan to coat it evenly. Add the sandwiches. Fry until golden brown on one side, about 2 minutes. Use a metal spatula to turn each sandwich and fry the other side, about 2 minutes more. Cut in half and serve immediately. Makes 2 sandwiches.
Variations:
Ham, Cheese & Tomato Sandwich.
Follow the recipe for The Ultimate Ham & Cheese but add 1/2 teaspoon dried basil to the sauce along with the cheese. Thinly slice 1 ripe tomato, push out the seeds and pat the slices dry. Coarsely chop 6 to 8 fresh basil leaves and sprinkle them over the tomato slices. When building the sandwiches, place the tomato slices between the ham and cheese slices. Follow the directions to cook and serve the sandwiches.
The Ultimate Turkey & Cheese.
Follow the recipe for The Ultimate Ham & Cheese but replace the Gruyère cheese and ham with cheddar cheese and thinly sliced turkey. Add 1/2 teaspoon dry mustard to the sauce instead of the nutmeg. Follow the directions to build, cook and serve the sandwiches.
Ham, Cheese & Egg Sandwiches.
Follow the recipe for The Ultimate Ham & Cheese. After you melt the butter in the fry pan, do not add the sandwiches yet. Instead, crack 2 eggs into the pan and fry until the whites are opaque and the yolks are firm, about 2 minutes. Using the spatula, place 1 egg on each sandwich on top of the ham. Top with the second slice of cheese and bread. Melt another tablespoon of butter in the pan and cook and serve the sandwiches as directed.