The Ultimate French Bread
Anonymous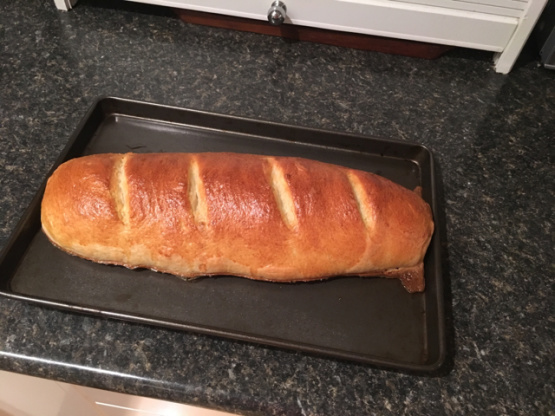 Headline: BREAD MACHINE RESCUES MEAL FROM BOREDOM! Never again will you purchase French bread from the store. Impress your friends and neighbors with a warm loaf, laugh delightedly when the compliments start rolling in. COOKING TIME includes rising time, too.

This is a wonderful and easy recipe. I don't have a bread machine so I used my Kitchenaid mixer. I put everything in the bowl except the flour and let the yeast become active (when it bubbles) before adding the bread flour. I mixed it on low for 6 min. and then rolled it out as directed. Simple and comes out great every time. I have made it 3 times now and even sprinkled garlic powder inside with some melted butter. YUMMMM. Thanks so much for posting.
Add to bread machine according to owner's manual (my machine does liquids first); program for DOUGH or MANUAL.
At the end of the cycle, place on lightly floured surface, rolling into a large rectangle; start at the longest end and roll up tightly, pressing seams and tapering each end, tucking under.
Place loaf on a greased baking sheet or stone; cover and let rise for one hour until doubled.
Near end of rising time, preheat oven to 400 degrees.
Mix glaze ingredients in a small bowl; brush over loaf generously; snip three diagonal slashes over the top (optional).
Bake for 20-25 minutes, top will be golden brown.
VARIATIONS: After rolling dough into a rectangle, (1) sprinkle with grated cheese [cheddar is delicious], or (2) generously brush with melted butter & sprinkle some aromatic herbs, or (3) spoon leftover marinara sauce close to the edges, -- then roll up tightly and pinch edges; continue as described in Step #3.
VARIATION #2: Mince one small onion (about 1/4 cup) and add to wet ingredients.
CREATIVE SUGGESTION: Shape into a round loaf instead of the usual long loaf.
BABY FRENCH BREAD LOAFLETS: Divide dough ball into 12 balls, tapering to make mini-loaves; bake 15-20 minutes--watch carefully!
FRENCH TWIST: Divide dough into 3 pieces, rolled into 14-16" ropes. Lay them on pan and braid in usual fashion, tuck ends under, stretch out a bit if need be; brush with 2 T. melted butter; cover & rise for about 30 minutes; brush with glaze, bake 20-25 minutes--watch carefully.