The Ultimate Crock Pot Pork Roast
Boomette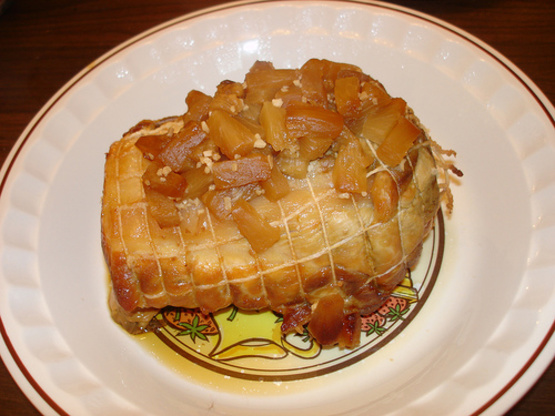 Makes a very moist roast pork with a delicious sauce to serve over rice. Add a veggie and you have a great and easy meal. Recipe found on the web.

This is a wonderful pork roast. The pineapple didn't over power the sauce but was a nice additive. I wouldn't recommend cooking the roast for 4 Hours on High and then 4 Hours on Low. That truely will be the cause of a dried out roast. You can cook it on High for 4 to 5 hours or Low for 6 to 8. You can cook it on High for about 1 hour then turn it to Low. The gravy thickened nicely. Served it with Garden Vegetable Rice and Green Beans. Thanks for posting.
Place roast in slow cooker.
Combine all ingredients except flour and water.
Cover and cook on high for 4 hours and low for 4 hours.
Remove roast and cover with foil to keep warm.
Measure cooking liquid from crock pot and add enough water to make 1 3/4 cups.
Place in saucepan.
Blend flour and water together to form a smooth paste.
Stir into reserved liquid and bring to boil.
Cook and stir until thick.