The Ultimate Chocolate Brownie Muffins
Anonymous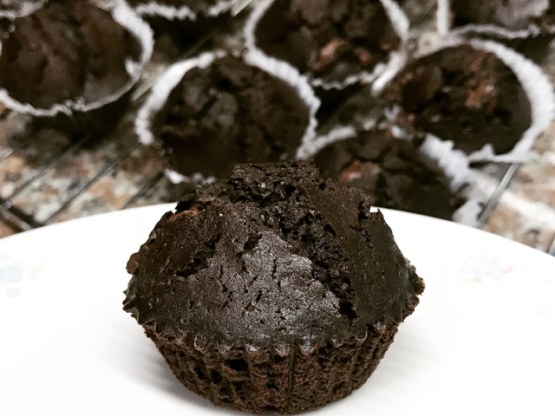 This recipe goes back to when my son was small and that is quite a while back, and I still make them, these are moist and rich no need for an electric mixer for this recipe it's all mixed with a wooden spoon, I have even added in chopped walnuts or mini chocolate chips, my Kittencal's Chocolate Frosting/Icing works great with these :)

Very chocolatey. However, mine came out REALLY dense. I'm not quite sure where I might have gone wrong; my mom said the melted butter should not have been hot, I think it might have been because I added the dry ingredients to the wet instead of the other way around it may have led to overmixing. Either way, they still taste really good; I used walnuts and chopped dark chocolate. And only used 1 cup of sugar. Would make again, though more cautiously, because I want to master making muffins!
Set oven to 350°F.
Line 12 muffin tins with paper liners.
In a medium bowl combine cocoa and baking powder; mix to combine.
Add in boiling water; mix well with a wooden spoon to combine.
Add in the melted butter and vanilla; mix well.
Add in the sugar, mix well with a wooden spoon.
Stir in eggs with a wooden spoon; mix until combined.
Mix the flour with salt; add in the chocolate mixture; mix well to combine (batter will be a bit on the thin side).
Add/mix in mini chocolate chips or walnuts (or 1 cup of both!).
Using an ice cream scoop fill each of the muffin tins almost to the top.
Bake for 25-30 minutes or until muffins are done, don't over bake! (might take a little longer, depending on how full the muffin tins are with the batter).
Cool, drizzle glaze over or frost with buttercream frosting.