The Trellis' Apricot-Almond Bread
LorenLou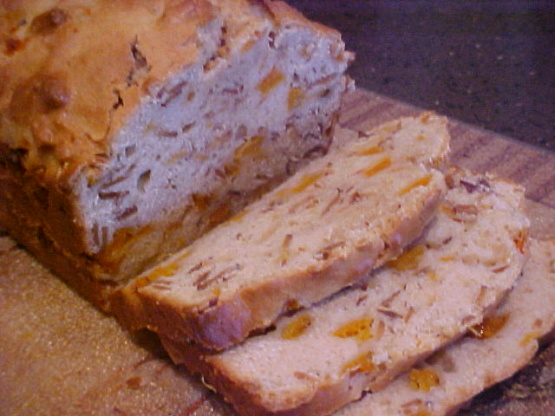 This was a wonderful bread recipe from the Trellis restaurant in Williamsburg, VA.

If you like Apricots you'll love this bread. I'm not huge on the taste because i'm not an apricot lover but the almonds and the cinnamon were a perfect addition. I followed recipe exactly and had no problem with the consistency or the time it took to cook. I put the batter in 3 mini pans and it took about 50 minutes to cook instead of the 60 and it came out just fine. I may make this again if I can get my kids to eat it and if I do so I'll dice the apricots up in finer pieces. Also use ripe apricots mine were just too sour. Also, don't cut down on time by not toasting the almonds. I loved them toasted in this recipe
In a 350-degree oven, toast almonds on baking sheet for 10 minutes.
In mixing bowl, cream together butter and sugar until fluffy.
Add eggs 1 at a time, beating well.
Add baking powder, salt, cinnamon, and extract.
Beat until smooth and add flour 1/2 cup at a time alternately with sour cream.
Beat until smooth, then add almonds and apricots.
Place in buttered and floured 12" loaf pan.
Bake for 1 hour.
Allow to cool before removing from pans.