Kathy(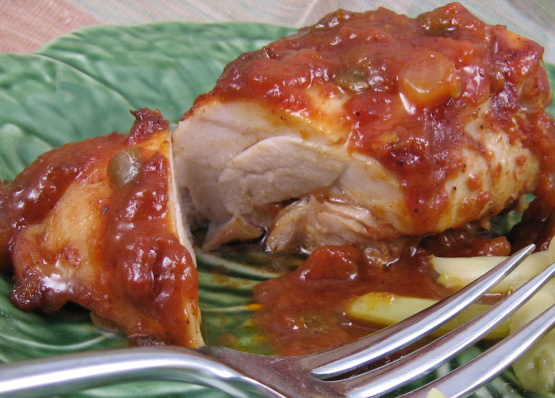 Another take on one of those great low fat recipes from the Podleski sisters. This one gives you extra-tasty oven barbecued chicken thighs.

"Oooh Delish"! Beside quick and easy, "The Sauce Made The Dish"! I only had 6 thighs but used the full sauce recipe. The amount of sauce was perfect. I did add 2 cloves of minced garlic to the sauce. (We are garlic lovers.) This is good enough for company and I will use the recipe. Maybe it's just me, but, when I use 12 thighs, I intend to "double" the sauce. I don't think the amount of sauce as listed is enough. Thanks for a winner!
ARRANGE chicken thighs in a single layer in a 9 x 13 inch baking dish.
WHISK together in a separate bowl the ketchup, salsa, honey, dijon mustard, chili powder and cumin until well blended.
POUR sauce over chicken; Turn pieces to coat both sides with the sauce.
BAKE uncovered at 400F for 45 minutes.