The Strawberry Cream (A Dessert/Drink)
Boomette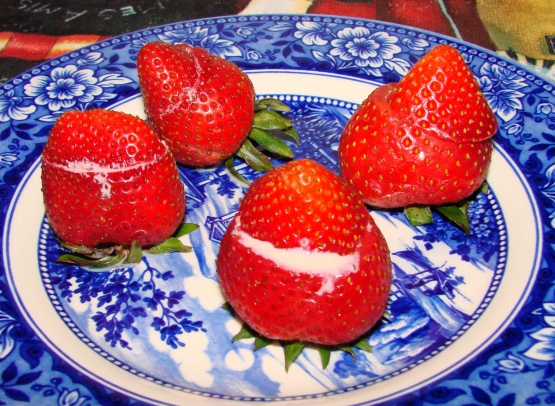 End the perfect party with a decadent dessert that will amaze and delight your guests. I'm giving amounts for 8 but that is only because I have to. Get as many strawberries as you want and a bottle of Amarula Cream liqueur and go to town! the prep time is 2 mins per berry but you can do it in less time that that when they are washed and waiting *wink*
Wash the berries but do not remove the green leaves.
Cut the top off the berries and a small slice off the bottom (just enough so the berry will stand).
Hollow out the strawberry, being sure not to make a hole in the bottom or sides.
Fill the strawberry with well chilled Amarula (or Godiva Chocolate, Irish Cream -- you get the idea).
Replace the berry top, repeat, repeat, repeat --
ADVANCE:.
A platter of strawberries can be made in advance and kept in the fridge (lightly covered with plastic wrap) until serving.