The South Beach Diet Cheesecake
dojemi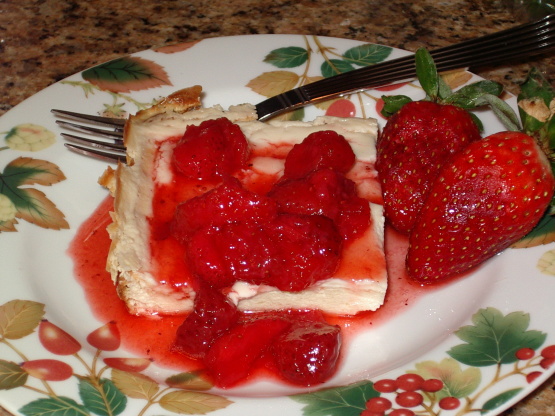 Not bad for a diet cheesecake. Satisfies that sweet tooth. Phase 2 on The South Beach Diet. The 20 minutes prep times includes the 15 minutes cool-down phase before adding the sour cream topping.

This cheesecake is amazing! I have never had an issue with texture (I'm guessing the reviewer who said it was grainy used real sugar instead of sugar substitute). I do take the time to cream the cream cheese and then add the sugar and cream together until super smooth just in case. I've made the recipe as is and it is perfection. I've also substituted lemon juice in place of the vanilla in the topping and that's delicious. Next I'm going to add sugar free chocolate chips. My man and 2 year old (not on a diet) love this cheesecake too! The cheesecake is great eating as is but I have topped it with thinned down sugar free pudding and sugar free jam. This recipe could never rival a real sugary graham crust cheesecake but if you're on a sugar free diet this dessert is the best out there and tastes pretty dang close to the real thing. Yum!
Beat ingredients for'cake' until smooth.
Pour into a 9" greased square pan.
Bake at 350 degrees for 35 minutes.
Remove from oven for 15 minutes-- leave oven on.
Meanwhile-- mix topping ingredients together and mix well.
After the 15 minutes has elapsed, pour topping over the cheesecake and spread evenly, and bake for 10 minutes more.
Chill.