The Simplest Tortellini Salad
Heirloom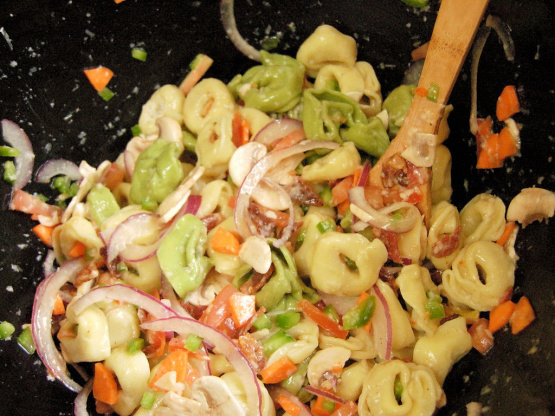 This stupidly simple salad is completely delicious. Great for pot lucks and barbecues. Cooking time is for pasta. Prep time includes chilling.

This easy recipe was a nice find for PAC-Fall '08. Because of the small number dining I reduced the recipe. I also elected to replace the tomato with a red bell pepper since I would have leftovers and used black olives. Next time I might add a few more veggies for additional color, but they aren't needed. Thank you for sharing your recipe!
2

(16 ounce) bags frozen cheese tortellini

2

medium sized tomatoes, diced
1⁄2 bunch green onion, diced (makes about 1 cup)

1

(6 ounce) cansliced olives (approximate)

1

(8 ounce) bottlecreamy caesar salad dressing

1

cup canned parmesan cheese
Cook tortellini according to package directions.
Run tortellini under cold water until very cool.
Combine tortellini with all other ingredients and mix well.
Chill at least three hours to blend flavors.