The Simple but Perfect Pancake
Boomette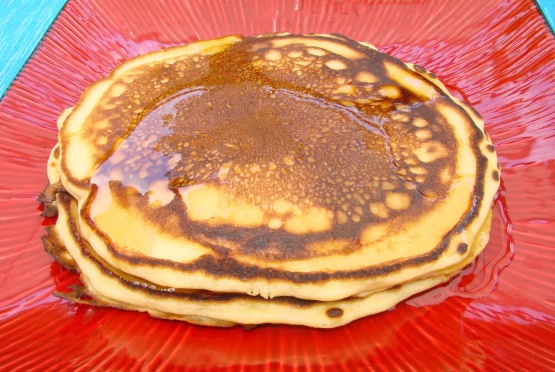 This recipe is from King Arthur's All-Purpose Baking Book and my family's current favorite recipe. They have a spongy texture and soak in the syrup.

Nope. The excess vanilla made the batter brownish. The batter was extremely thin, so the pancakes were formed to the pan, not circular or shaped. Most importantly, there wasn't any fluff to them at all. Pretty gross and would never try again. I do acknowledge that I doubled the recipe, so definitely don't try that it you're going to try this recipe.
Beat the eggs, milk, and vanilla until light and foamy, about 3 minute at high speed of a mixer (I do this step in blender and mix the rest in bowl with a large whisk).
Stir in butter or oil.
Whisk the dry ingredients together and gently, but quickly, mix into the egg and milk mixture.
Let the batter relax while griddle is heating (or overnight in refrigerator) The batter will thicken upon resting.
Grease and preheat griddle.
The griddle is ready if a drop of water will skitter across the surface, evaporating immediately.
Drop ¼ cupfuls of batter on the lightly greased griddle.
Cook on one side until bubbles begin to form and break (this is the time to add anything like berries, chocolate chips, etc), then turn the pancakes and cook the other side until brown (turning only once).