jenne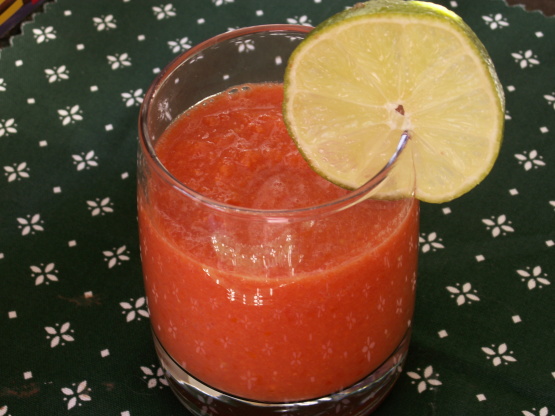 This is a great way to kick start your day. For the best tasting drinks, a few simple rules should always be followed; always use fresh when possible, choose vegetables or fruits that are in season, smell good, are nicely ripened and never prepare them in advance. This will ensure a good beneficial drink.
4

heirloom tomatoes, washed, quartered
1⁄2 cup carrot, sweet, grated

1

tablespoon key lime juice
1⁄4-1 teaspoon hot sauce (ex. habanero hot sauce) (optional)

1

lime slice, garnish
Place the tomatoes, carrot and lime juice into a blender or food processor and process until smooth.
Drain the mixture and serve in a pretty juice glass. Add a dash of your favourite hot sauce and garnish with the lime slice.
This is best served right after its made, enjoy.