The Rockwood Bakery's Peanut Butter Granola (Less Sweet Version)
Prep 15 mins
Cook 25 mins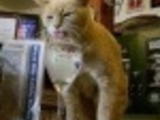 Adapted from The Rockwood Bakery in Spokane, Washington. I've reduced the sugar content in the original recipe and also cut the recipe in half to yield a more manageable portion. This version makes about 2 full cookie sheets of granola. Source: The Spokesman-Review newspaper.
Directions
Preheat oven to 325 degrees.
Mix oats, coconut and almonds in a large bowl; set aside.
Combine remaining ingredients in a saucepan. Stir over medium heat until sugar dissolves and ingredients are well mixed. Pour warm mixture over dry ingredients in stages, stirring well in between. Continue stirring until all dry ingredients are coated.
Transfer granola to 2 greased cookie sheets (with raised edges) and spread evenly.
Bake for 20-25 minutes (as needed), until deep golden brown, stirring every 8-10 minutes with a metal spatula. Be sure you keep an eye on it, as it can burn rather quickly if you turn your back!**.
**Note: the original recipe lists baking time at 45-60 with stir intervals of 10 minutes however I suspect this is for a large commercial oven. If I'd followed these instructions my granola would be burnt to a crisp! In short, adjust baking time to your personal oven.
Remove from oven and cool. Continue to stir and break up granola.
When completely cooled, add the dried fruit and mix to combine. Serve with milk, over yogurt, or plain.
Most Helpful
Really good granola. The only deviation I made was to use coconut oil in place of the veg oil. Love the addition of pb.
Halved this due to their was only 4 of us.. Very delightful,and flavorful breakfast. Especially liked the almonds in this. Made for a great start today..Made recipe as posted, and wouldn't change a thing in the future. Cooking time was right on the money. Made as a bonus tag for Julys participation in I Recommend.