The Realtor's Vanilla Coffee Creamer
alligirl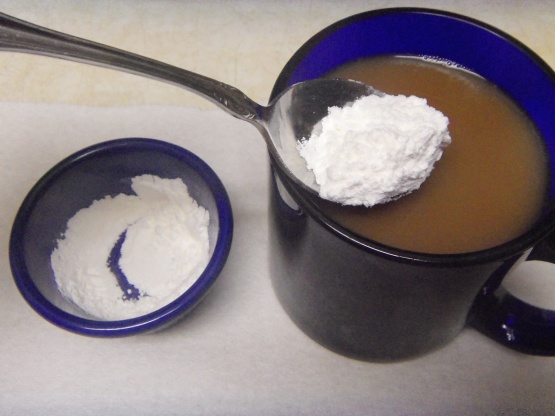 Add this yummy treat to your gift baskets. I gave this to my Mother for Christmas and she just loved it. I kept a little for myself and I thought it was pretty good, too. It gives your coffee that extra special taste. This will make 1 1/4 or 1 1/2 cups of creamer, depending on whether you choose to use sugar or splenda.

I enjoyed this, although I reduced the recipe, to make a smaller amount. I wanted to 'try' it, before I committed to a larger quantity. Easy enough, and perfect for times when creamer isn't readily available, like camping or if one only uses coffee creamer occasionally! Thanks for sharing a great 'helper' recipe, Realtor by Day, Chef by Night!
177.44

ml non-dairy coffee creamer

177.44

ml powdered sugar (I substitute 1/2 cup splenda granular)

4.92

ml vanilla
In a small bowl, place the creamer and drizzle the vanila over top, whisking it in as you go.
Add sugar or splenda and mix thoroughly.
Store in a jar with a tight fitting lid.
Add 2 tsp of this to your coffe cup.