The Realtor's Small Sized Garlic Pull Apart Bread
diner524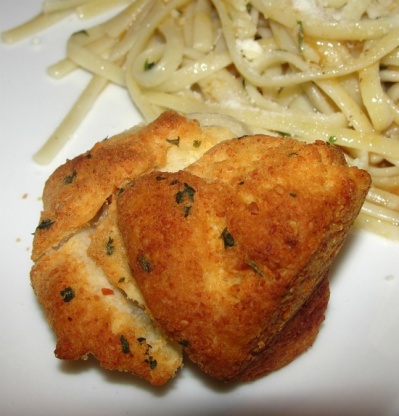 There are alot of recipes out there for this quick and tasty bread but they all make a large bread that's just too much for my small family. I created this yummy version for those of us who need a smaller "loaf". It's the perfect size for 2 adults and 1 or 2 kids. I make mine in a small heart shaped springform pan. My daughter just loves it and my husband wolfs this down fast.

Top Review by J-Lynn
Excellent! I made this in a glass pyrex bowl; 25degrees lower than the biscuit tube specified. Took a little longer to bake, but made the nice pretty shape that I was looking for! :)
Preheat the oven according to the directions on your biscuits. They vary for some reason.
Spray a small bundt pan, springform or a regular loaf pan with non-stick spray. If using a springform, cover the outside bottom with foil because the butter will leak out and smoke in the oven (and smoke your WHOLE house up- this happened to me the first time I made it).
Melt the butter in the microwave in a bowl large enough to hold the biscuits.
Add all of the spices and cheese to the butter and stir.
Cut the biscuits up into 4-6 pieces and add to the butter mixture. Stir them up to coat them all real good. I always end up using my hands cause they stick together.
Put the biscuit pieces into the pan so they're lumpy, bumpy but spread out evenly and bake for approximately 25 minutes or until nicely browned and done in the middle.
Run to the table with everyone chasing you. If you don't run, they'll be gone before you get to the table!