The Realtor's Shrimp Scampi W/Spaghetti
KateL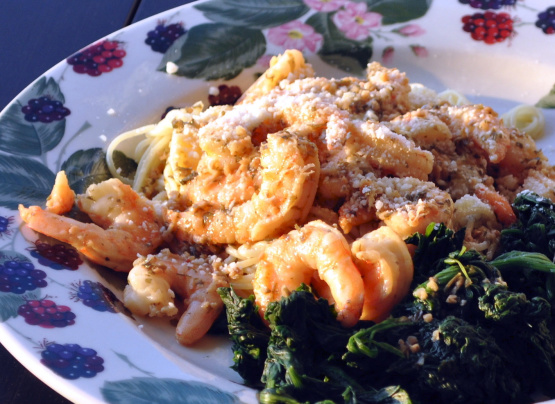 This will blow you away. The first time you serve this, you'll be ok because they don't know how great it's going to be. The second time you serve this, you better put it on the table and get out of the way FAST cause they are going to knock you down trying to get to it. It's a recipe that I have developed through years of making it over and over and over. This is the best version I have been able to create. NOTE: This recipe is to be used with 1/2 pound of spaghetti. If you are using 1lb of spaghetti, double the recipe because there won't be enough sauce for a full pound. If you are doubling it, don't double the lemon juice or it'll be too tart, just bump it up to 3 Tbsp. and only bump the lemon pepper up to 3/4 tsp or it will be too salty for some people. MANGIA!

Top Review by Kendra
This was truly an outstanding recipe! It was very easy to put together and the directions were great. I did make one slight change. I sliced 5 green onions thinly, added the white parts when I added the shrimp, and topped with the green parts at the end of the recipe. Thanks so much for posting this recipe. It's going right into my Keepers folder!
Start the water for the spaghetti and cook the spaghetti while you are doing the following.
In a skillet over medium high heat, melt butter, add oil and garlic. Cook garlic until it just starts to brown, about 4 or 5 minutes.
Add the wine, lemon juice, parsley, lemon pepper and tobasco.
Simmer 5 minutes.
After the 5 minutes are up, add the shrimp to the skillet and stir them around so they are covered with the juice and turn off the burner. Just let them soak in there, doing the backstroke through the sauce while the spaghetti finishes cooking. Stir them around a couple of times while you're waiting.
Drain the spaghetti and put it in the serving bowl, pour the shrimp and all the sauce over top and sprinkle the entire 1/2 cup (or more) of parmesan over the top and serve.
Pass more romano cheese at the table. Is there ever enough cheese on there?