The Realtor's Quick and Easy Caesar Salad Dressing

This is very quick and easy to make with things you already have in your kitchen. One taste of this and you'll never buy another bottle of that expensive, chemical-filled dressing from the store again!
Directions
Combine all ingredients in blender or processor. Blend until smooth.
Season to taste with salt and pepper.
Reviews
Most Helpful
Our lemon lover loved this salad dressing, but there was too much lemon for my taste for Caesar Salad Dressing.

Well, you really can't ask for anything easier, and the flavor is spot on. With this recipe in hand, there are no excuses left to ever buy bottled dressing again. You will always have the ingredients on hand, and the result is so much fresher and more flavorful than store-bought. This will definitely be added to my regular salad dressing rotation. Thanks for sharing!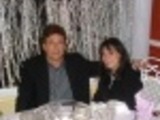 Loved it. Just as the intro claims, quick and easy and tasty too. Thanks for sharing :)