The Realtor's Party Potatoes
Nif_H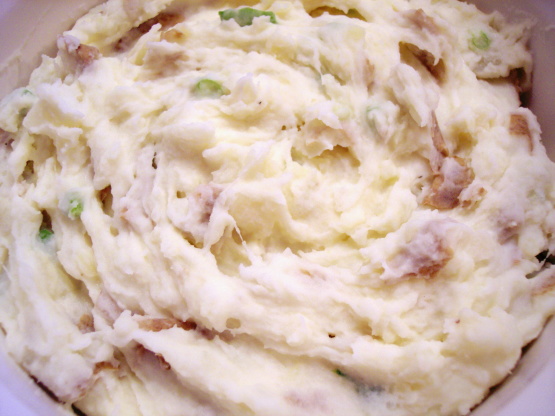 These potatoes are yummy, rich and decadent! They are not diet friendly but boy are they worth the extra calories! They're a nice change when you want something different than the same old mashed potatoes. This recipes makes alot so if you need less, it's easily cut in half. You can make these a day or 2 ahead and refrigerate until ready to use.

A wonderful potato dish. Loved the addition of onions. A great make ahead recipe.
Boil potatoes until tender, about 20-30 minutes. Mash while hot.
Stir in butter and cream chesse.
Add remaining ingredients and stir to combine.
Serve immediately or spread in a 13x9 casserole and refrigerate until ready to use.
An hour before serving, remove from refrigerator, set on counter for 30 minutes or so.
Bake, uncovered at for 30 minutes or so to heat through.