The Realtor's Garlicky Potatoes Au Gratin
gailanng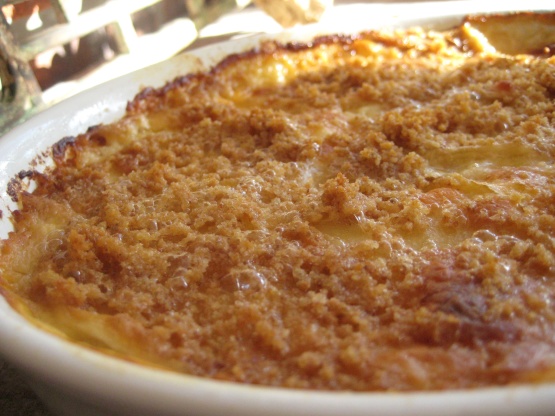 This is one of my favorite recipes for potatoes au gratin. I make this is an enameled cast iron casserole so I can make the sauce and bake the potatoes all in the same pan. If you don't have one of those, just make the sauce, stir in the potatoes and then pour the mixture into a buttered 2 or 3 qt. casserole dish.
Heat oven to 350*.
In casserole, melt 1/4 cup butter, stir in flour, salt and minced garlic.
Add milk and cook until mixture boils and thickens, whisking constantly.
Stir in cheeses until sauce is smooth.
Add potatoes,stir until thoroughly combined.
Mix the breadcrumbs with the melted 1 tablespoons butter and sprinkle evenly over the top.
Bake uncovered 1 1/2 to 2 hours until bubbly on top.