The Realtor's Crunchy Wings (Baked)
CoffeeB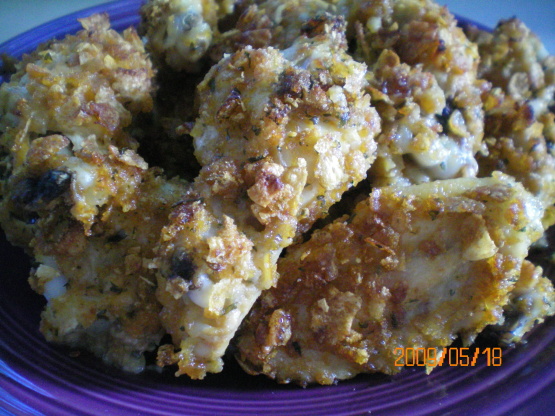 These are a little healthier than fried wings and they taste better, too. The dipping sauce is fantastic! You can adjust the heat by adding more hot sauce if you like them hotter.

These were great. I did add an extra teaspoon of red pepper sauce, and to us they fit the bill. Other than that recipe was made as posted, and we all enjoyed very much. The dipping sauce is one of a kind. Very good. Made for 1-2-3 hits.
Preheat oven to 425.
In microwave, melt butter and hot sauce together and stir to blend.
In a plastic bag, place the cornflake crumbs, parsley and salt, shake to mix.
Dip the wings in butter sauce then shake in cornflake mixture to coat.
Bake on greased baking sheet for about 35 minutes or until crispy and done.
While the wings are baking, combine the remaining ingredients for the dip and refrigerate until serving.