The Realtor's Creamy Cheese Tortellini With Asparagus
lazyme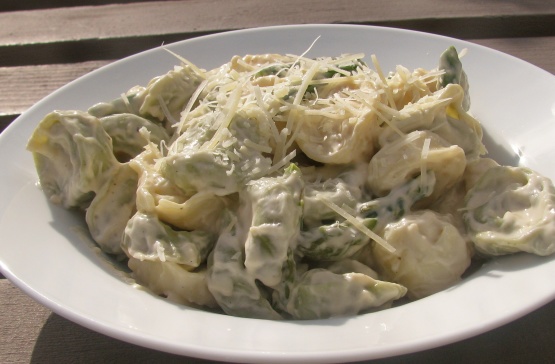 YUMMY! This is so creamy and delicious. It's quick to the table and very satisfying.
I didn't have everything I needed for the recipe, so I improvised. The only thing I had a problem with was the parmesan cheese lumping up together. It was really hard to get it mixed with the sauce. I put it in after the tortellinis, so I would suggest to put it on first and mix it well. I didn't have lemon pepper, so I just used pepper, onion salt, salt, some lemon rind, part of a squeezed lemon (about 1/4th). I didn't have chicken broth, so I used a chicken bullion cube (I only had one left, so I just used 2cups of water with it). I bought the pack of refrigerated cheese tortellinis (they cook in 2 minutes) With that said....it only took 20 minutes to make and most of that was waiting on the water to boil. (But it is one that you can't multitask while making) It tasted a lot like Pasta con broccoli. I think next time I'm going to make it with mushrooms and broccoli. Honestly I don't even think you need the tortellinis, you could use any pasta. This is a great base cream sauce to use to clean out the fridge!!!!
Boil broth with garlic, thyme and lemon pepper in a large heavy skillet until reduced to about 1 cup, about 6 minutes or so.
Meanwhile, cook tortellini in a pasta pot of boiling salted water (1 1/2 tablespoons salt for 4 quarts water) according to package directions. Drain.
Stir cornstarch into cream, then whisk into broth. Bring to a simmer, whisking, then continue to simmer 1 minute. Add asparagus and simmer until crisp-tender, about 2 minutes. Stir in cheese and tortellini and cook, gently stirring, until heated through.