The Realtor's Cheesy Pepper Scones
Annacia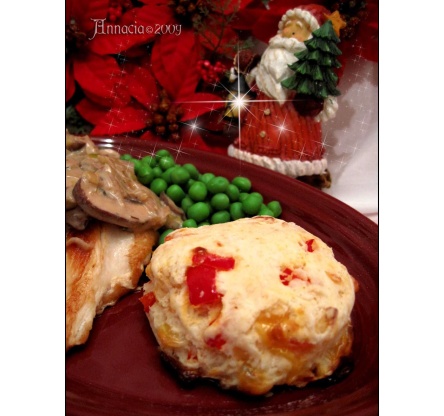 Oh my gosh, these are yummy! I love scones both sweet and savory and I've made a lot of then over the years. This recipe is top of the line, everything it perfectly balanced and works together like a well played symphony. They raise tall and have that more-ish taste, as soon as you finish one you want more. This recipe will most certainly be made again. Made for Realtors Bonus Win in Photo Tag.
Preheat oven to 425*F.
Melt 2 tablespoons butter in a skillet and saute chopped onion and chopped red bell pepper until soft; set aside.
In a large bowl mix together flour, baking powder, salt, white pepper, and cayenne pepper. Cut in 4 tablespoons butter until coarse crumbs are formed. Stir in Gruyere cheese, cheddar cheese, the onion mixture, and milk; stir just to blend.
On a lightly floured flat surface, form the dough into 12 rounds, flatten, and place on a greased baking sheet. Brush with milk. Bake for 15 minutes.