The Realtor's Banana Snack Cake
Nif_H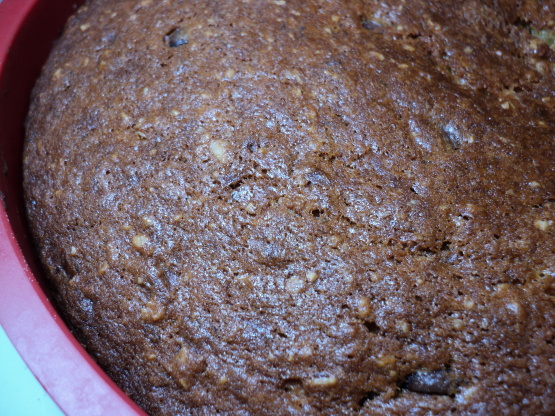 This is one of my daughter's favorite cakes. It's super moist and sweet enough on it's own that it doesn't need frosting. It's delicious as-is. It was originally from a Pillsbury book but I've made a few very small changes to suit our tastes.

Top Review by Nif_H
This cake is delicious! I made it exactly as listed, down to grinding the oats. I baked it in a round cake pan so maybe that's why it took about 50 minutes to bake. No matter - it is thoroughly being enjoyed by everyone! I made this for PRMR tag game. Thanks Realtor! :)
Preheat the oven to 350'.
Grease and flour a 13x9 inch pan and set aside (I always spray pan with Baker's Secret).
In a medium bowl add flour, oats, baking soda, and salt, mix to blend and set aside.
In a large bowl, cream together the butter and the sugar until fluffy.
Add eggs one at a time, mixing well after each addition.
Mix in buttermilk, bananas, and vanilla. At this point it'll look almost curdled. Just mix it well and ignore that.
Add flour mixture to the butter mixture and mix to blend. The batter will be a little thick.
Fold in 1 cup of chocolate chips.
Pour batter into prepared pan.
Bake at 350' for 30-35 minutes or until toothpick comes out clean.