I could not tell Sarah, "No S'more for you at your birthday party" just because she is diabetic. So I sat down and figured up the carbohydrates for her so she could have one if she took extra insulin. My calculations came up with 30 carbohydrates in one S'more, so now she will know for future use. Now lets see what the nutrition facts are. lol
1 honey maid honey grahams cracker
0.25 (1 5/8 ounce) hershey's milk chocolate candy bar
2 large kraft jet-puffed marshmallows
Directions
Take one bunch of girls at a summer birthday party.
Dig a small round pit in the ground and place large stones around it.
Gather some dry twigs to fill the pit and start on fire.
Place two or three large pieces of firewood on top.
While campfire is getting hot go look for long sticks to toast your marshmallows.
Take your cracker and break in half and place chocolate on top of one half.
Put 2 marshmallows on your stick and toast them over the fire.
Sandwich the marshmallows between the cracker topped with chocolate and the plain cracker half and slide off.
Eat immediately.
Repeat as many times as you like.
Just pray they don't have a toasted marshmallow fight like my girls did!
WHAT A MESS!
But did they every have fun.
Most Helpful
Oh how can you go wrong with these! We had a couple friends stay over and sat around our fire pit and pigged out! Wonderful Sarah J!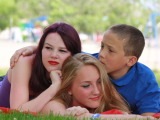 These were made for my granddaughter but it was the first s'more I have ever eaten. It was a quick and easy treat. Two marshmallows were a little to much for us so next time I will only use one. Thanks Sarah J for a new quick and easy treat. Bullwinkle