The Quick Magical Breakfast Blaster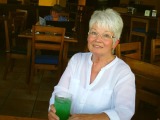 Dr.Oz "You on a Diet" quick and so good for you breakfast smoothie. I sometimes add 12 ounces of skim milk instead of water. I also add fresh baby spinach leaves, you can't taste the spinach but it adds a punch of vitamins.
Directions
Peel banana and break into chunks.
Put all ingredients in a blender.
Add 12 ounces of water and ice.
Cover, blend until fairly smooth.
Note: The recipe adds 1/4 teaspoon Psyillium seed husks but the software won't let me add this.
Most Helpful
Being a novice runner I'm always in search of a perfect " before the morning run" breakfast. I tried this out this morning and find it is not only healthy but also tasty. I had all the ingredients except the Psyillium on hand however, all I had available was flax seed oil capsules which I had to cut open to obtain the oil. I added the baby spinach as Rae mentioned for the nutritional value it adds. Rae was correct that it doesn't alter the flavor. This will definatly be my new morning/or before a run drink. Thanks for sharing Rae