The Queen of Pizzas (Gourmet Shrimp Pizza)
Luvs 2 Cook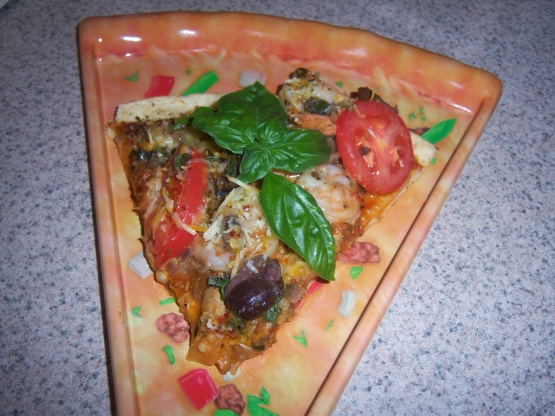 Creating a pizza for the Quisine Queens (Zaar World Tour #2) was not as tough a challenge as some might expect. Diverse interests and backgrounds reulted in a tasty pizza! Chef Kate - spring onions, Susie D - shrimp, Lauralie41 - prepared crust and sauce katia - kalamata olives, evelyn/athens - feta, twissis - mushrooms, tigerduck - arugula and chili oil, stormylee - mozzarella, chefwally - red pepper flakes and fresh basil

Top Review by moe13a
Good. It was like having a Mediterranean dish. A little spicy. I added tomatoes just under the cheese and it was a nice addition (it just looked too pretty in the picture not to add). All the flavors blended really well together.
Preheat pizza stone in oven at 450°F Brush olive oil over crust and spread with prepared pizza sauce. Sprinkle on basil, oregano, red pepper flakes, pepper and garlic.
Distribute shrimp, mushrooms, olives and onions over pizza.
Combine 3 cheeses and sprinkle evenly over pizza.
Bake for 10 minutes.
Add toppings of your choice at table (do try to have some arugula and chili oil to drizzle over) and enjoy!
With much love from the Quisine Queens.