lazyme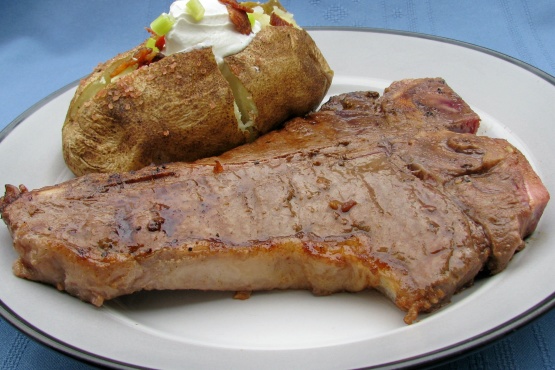 While searching for grilling recipes I found this recipe at "patiopalace.com" which stated this was from "Broil King OMC". Haven't tried it yet, but sounds very good so posting here til I get a chance to make it and will update this then. Update 2/23/12 - We really enjoyed this last night for dinner. We marinated a 1 3/4 lb Sirloin Steak for about 6 hours and the taste was wonderful. This takes just a minute to put together and with such great results, this will now be our new marinated steak recipe.

Top Review by lazyme
Yum! I used T-bone steaks and marinated them on the counter top for about 1 1/2 hours. Then grilled them on a stove-top grill pan. I've really got to learn how to grill one of these days, lol. The steak had a wonderful flavor and I loved the Dijon in the marinade. Thanks diner for another great recipe. Made for Potluck Tag.
Trim excess fat from the steaks. In a glass dish or heavy plastic bag combine the remaining ingredients.
Marinate the steaks for 1 hour at room temperature or up to 24 hours in the refrigerator. If refrigerating, bring steaks close to room temperature 1/2 hour before grilling for more even cooking.
Preheat the barbecue on HIGH. Brush grids with olive oil. Grill steaks to your liking such as rare, medium etc.