Boomette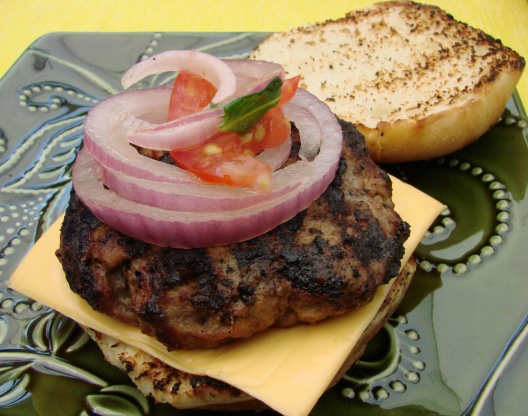 I found this recipe in my Taste of Home magazine. The chili sauce and horseradish add some zip to these hamburgers and make them a nice change from ordinary burgers.

Fantastic flavor. I adjusted just a bit from the original recipe by adding a package of Hidden Valley Ranch mix to the burger, as well as one Brat (no skin) for an addition of a little fat. Fabulous.
Coat grill rack with cooking spray before starting the grill.
In a large bowl, combine the egg, chili sauce, onion, horseradish, worcestershire sauce, salt and pepper.
Crumble beef over mixture and mix well.
Shape into four 3/4-inch thick patties.
Grill, covered, over medium heat for 5 - 7 minutes on each side or until a meat thermometer reads 160 degrees and juice run clear.
Serve on buns with desired toppings.
Tip: After forming your patties, make a little well in the center of each hamburger patty and your burger won't cook up into a ball shape -- the little well formed in the center helps your burger keep the right shape.