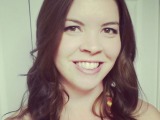 I got this recipe from America's Test Kitchen. I saw them make it on TV and decided to try it myself. It turned out great, just as they said it would. So why should you try it? It's the perfect combination of a sweet and savory cornbread that will please everyone.
Directions
Adjust oven rack to middle position. Preheat oven to 400 degrees Fahrenheit.
Spray 8-inch-square baking dish with nonstick cooking spray.
Whisk flour, cornmeal, baking powder, baking soda, and salt in medium bowl until combined; set aside.
In food processor or blender, process brown sugar, corn kernels, and buttermilk until combined, about 5 seconds.
Add eggs and process until well combined (corn lumps will remain), about 5 seconds longer.
Using rubber spatula, make a well in the center of the dry ingredients.
Pour wet ingredients into well.
Begin folding dry ingredients into wet, giving mixture only a few turns to barely combine.
Add melted butter and continue folding until dry ingredients are just moistened.
Pour batter into prepared baking dish; smooth surface with rubber spatula.
Bake until deep golden brown and toothpick inserted in center comes out clean, 25 to 35 minutes.
Cool on wire rack rack 10 minutes.
Best served warm; leftovers can be wrapped in foil and reheated in a 350 degree Fahrenheit oven for 10 to 15 minutes.
Most Helpful
This was great! I have never made corn bread before, and so I wasn't really interested in making it too fancy. I was able to make this with simple ingredients I had on hand.
I made bbq ribs for dinner last night and I thought Cornbread would be great to serve with it so I thought I'd try this recipe out. Mine looked just like the picture does! It was more like corn "cake" than cornbread. I had no buttermilk on hand (and couldn't find it in the store) so I had to make my own and Substitute it but it still came out great. The only thing I'd change is I'd add a few tbsp. more of sugar because we like our cornbread just a little sweeter. But this was still a good and easy recipe and one I'd make again. Thank's for posting!