The Perfect Chocolate Chip Cookies (Whole Wheat)
Partyof8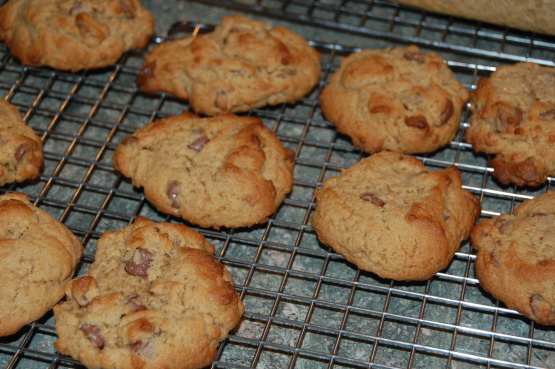 I have been experimenting with whole wheat chocolate chip cookie recipes for a few years. I have finally hit upon what I believe to be the PERFECT cookie recipe by combining ideas from a half a dozen decent recipes. This is more specifically directed at home-grinders.

These cookies are truly perfect right out of the oven! I was a little scared that the oatmeal might make it not taste good. I was wrong they blend in perfectly. I don't feel as guilty eating this healthier version of a classic cookie. The only thing I would change on the recipe is less sugar. To me the cookie is to sweet but other then that its perfect. Thanks for the new keeper recipe! :)
Cream together butter, honey, vanilla and Sucanat (brown sugar).
Add in egg. Cream well.
In a separate bowl, stir together flour(s), salt, baking soda and powder.
Slowly add flour mixture to creamed mixture.
Add oats, then chocolate chips and almonds (optional).
Bake at 350 for approximately 10 minutes. Take them out while still a little bit gooey. Let finish baking outside of oven while cooling on the pan for 5 minutes. Remove from pan once firm.