lazyme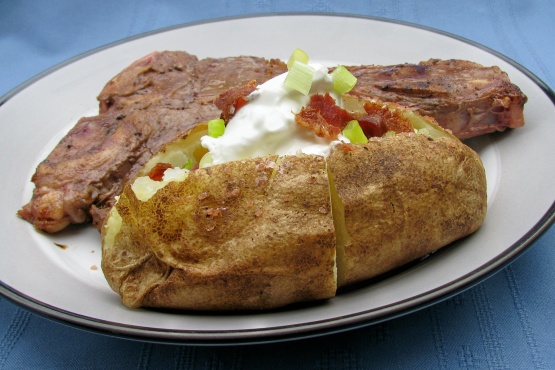 Simple to make and perfect for cold winter nights. Be sure to get nice big ones of even size so they all cook at the same time. You can serve on their own as a snack, or with a nice salad. You can even just add cheese or serve with steak or chicken -the choice is yours!

These were great and served with steaks, fluffy in the inside and gorgeously crusty outside. Made as written and served with sour cream - yum! Thanks for posting!
Pre- heat the oven to 200c/Gas6.
Be sure to get nice big potaoes and leave them in their skins.
Wash the potaoes and then dry them.
Now rub the skins with olive oil and sprinkle with a little crushed sea salt.
Prick the skin of the potaotes here and there with a fork a few times.
Bake on the bars of a pre-heated oven for at least an hour or even 1 hour and 30 minutes.
The time will of course depend on the size of your potatoes and the variety.
The potato is done when you can easily insert a knife into it and it. And the skin should be nice and crisp. There is nothing worse than a baked potato that's not cooked through so make sure it is.
Cut a big cross on each potato and add a big dollop of butter and some salt. You don't have to add salt but it just won't taste the same.