The Peacock -- My Version
Boomette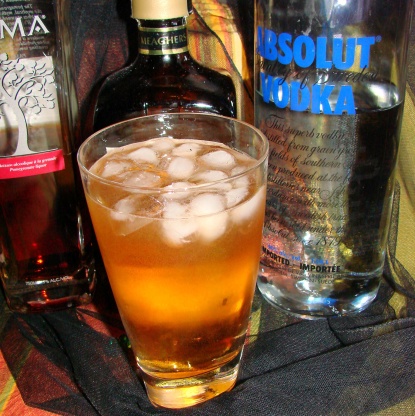 I got the basis for this recipe from the Pama Website. Made it up and thought it was good but a little too strong for me. With the addition of the raspberry seltzer I thought it was quite tasty indeed. The original recipe had no seltzer in it at all, just the liquors. Hope you enjoy!
We didn't like the taste. But probably because of the seltzer water I bought. I couldn't find raspberry seltzer water. So I bought berry sparkling water, no calorie but sweetened a lot with splenda or something else. So I guess that's what made the drink taste bad for us. I'm sure it's yummy with the good ingredient. Thanks Kim :) Made for 123 hit wonders
1 1⁄2 ounces pama pomegranate liqueur
1 1⁄2 ounces vodka (I used Skyy)
1⁄2 ounce orange liqueur (I used triple sec)

4

ounces raspberry seltzer water
ice
pomegranate seeds (optional garnish)
Pour all liqueurs in a shaker with ice. Mix and shake til chilled.
Pour into a rocks glass with ice.
Serve.
I garnished mine with some pomegranate seeds, which looked really nice in the bottom of the glass.