The Ospidillo Cafe Pica De Gallo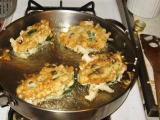 This is a condiment served on Mexican dishes such as fajitas. The bright blend of flavors is just incredible and, before you know it, you'll be spooning this stuff over non-Mexican dishes such as fried chicken or pork roast. It will keep just fine for 3 or 4 days in the refrigerator. I got this recipe from an old church fundraiser cookbook (Reorganized LDS church in Independence, Missouri) that a beloved aunt sent me several years ago. I have never had better Pica de Gallo anywhere. (pronounced: Peek-uh day guy-O, according to my daughter who speaks some Spanish). I have a Mexican friend who also says it's pretty genuine and the best that he ever had too. This is much less tomato-ey than regular salsa. The time listed includes marinating time in the refrigerator. I hope others will enjoy this excellent Mexican condiment as much as my friends and family do.
Directions
Blend gently and refrigerate for at least 2 hours, allowing the flavors to infuse, before serving with Mexican dishes.
Most Helpful
Perfect recipe - this is exactly the recipe my brother brought back from Mexico! I have never mixed the water in it though - usually the tomatoes tend to give off enough juice and I have always used salt ground from a salt grinder - the grainy texture tends to be perfect with this.
This is great sauce. Goes well on anything. I add tomatillos from my garden. Gives a slight sweet taste. The name means beak of the roster,because the mexican women making this,( the chopping the vegies), sounds like the roster pecking at food on the floor. These are very colorful people.
This is how I have always made Pica De Gallo except I only use one jalapeno. Using two in this amount of salsa would be way to warm for the average taste. Anyway, that is just my opinion and it is a good recipe.Try it on you eggs for breakfast.