The Ospidillo Cafe Memphis (Barbecue) Rub & Sauce
Bone Man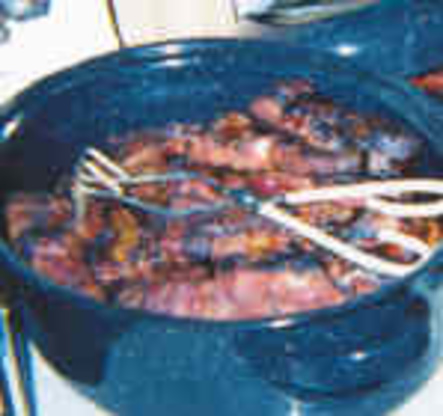 This takes quite a lot of mixing and blending but the end result is worth the effort. This sauce is for Memphis-style barbecued spare-ribs, chicken and/or smoked brisket. The result is NOT sweet (like Kansas City-style sauce) but, rather, spicy. It has a LOT of flavor that penetrates the meat. Also, the dry rub that goes into the sauce is excellent for barbecuing chicken or other meats. The pre-tweaked recipe comes from multiple sources including Steve Raichlen and a Memphis barbecue restaurant.
In a 4 1/2 quart pot or larger, bring all wet sauce ingredients to a boil, uncovered, over medium heat.
Reduce heat to low and add sauce dry ingredients.
Simmer (a slow bubble) until the sauce thickens a bit, stirring often. This takes about 30 minutes.
If you cannot find fresh apple cider, use regular apple juice (not "cocktail").
Use this sauce on your grilled meat about 30 minutes before it comes off the heat (grill or smoker), or, use it on meat at the table.